We're delighted to announce our silver sponsorship of Dublin Pride 2019 where we will be supporting our LGBTQ+ employees and customers and celebrating diversity in all its forms. 
Pride will take place this month to remember the Stonewall riots which occurred in June 1969. The demonstrations served as a catalyst for the rights of LGBTQ+ people. We've come a long way in those 50 years, but we can still do much more.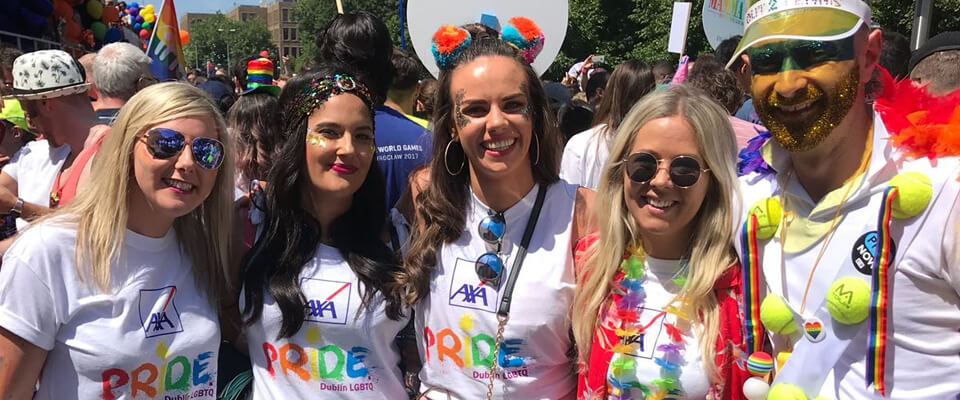 Carmel O'Brien, the HR Director for Ireland continues: "Pride is built on self-belief, courage and determination, and we're thrilled to be a part of an event that celebrates these traits."
After last year's success, we're delighted to continue our support of Dublin Pride. Come rain or shine we'll be there with you.
From the 20th until the 29th of June, Dublin Pride have organised a wide range of fun and educational activities to take part in. We've picked a few of our favourites:
Dublin Pride Parade Saturday 29th 1:00 pm
No Pride festival would be complete without its Parade. In 2018 more than 60,000 marched with the colourful floats. Keep an eye out for AXA as we march with you this year.
Bonus Tip: despite the weather, we eat ice cream all year round on this beautiful island. We'll have an ice cream cart at Merrion Square where we'll have competitions with ice cream prizes.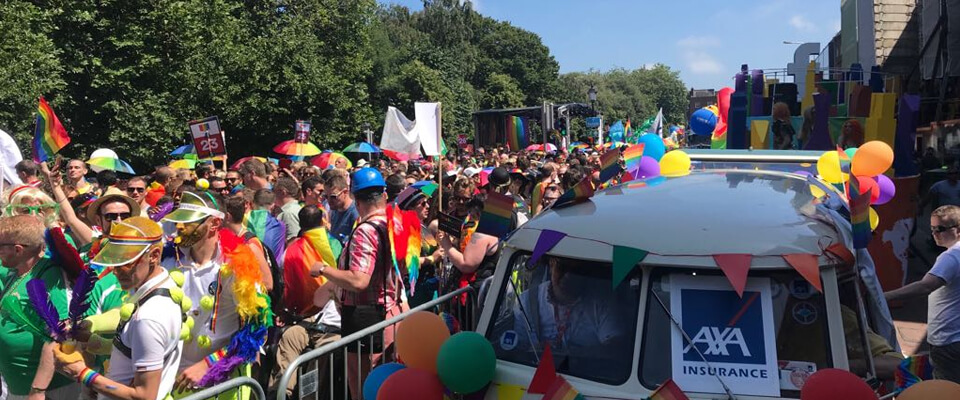 Dublin Pride Run Friday, June 21st, 7:30pm
Now in its 8th year, Dublin Pride Run is a great way to keep fit and show your support for Pride. The slogan for this year's run is 'We are the Champions'. Some of our very own will be joining the many other champions running the 5k this year.
A Queer History Tour of Kilmainham Gaol Saturday June 22nd, 10:00 am
One of many historical events taking place this Pride, this special tour focuses on the lives of lesbian, gay, bisexual and transgender prisoners associated with the infamous building.
Find out more about all the upcoming events on the Dublin Pride website.
Celebrate Pride all over Ireland
June might be Pride month for Dublin, but Ireland is celebrating Pride all Summer.
Limerick Pride 5th – 15th July
You can watch the parade from City Hall at 1:30pm on Saturday 13th.
The Cork Pride Festival July 27th - August 4th
A great way to spend the August Bank Holiday. This year's theme will be 'Stonewall: 50 Years Proud.'
Galway Pride 12th - 18th August
This will be the 30th year of Galway Community Pride. Congratulations.
From everyone at AXA, Happy Pride!
#KnowYouCan