Someone else will name a Sunbeam Tiger or insist that a classic car is a 1970's Volkswagen Scirocco. There really isn't a wrong answer, but is there an official line on the age of a classic car?
The Official Line
Our motor tax laws define a vintage car as one that's 30 or more years old. This interpretation takes us back to 1987 when the Ford Sierra, the Vauxhall Cavalier and the Austin Metro were popular. The Irish Veteran and Vintage Car Club is more specific. It offers this timeline:
Pre-1905 Antique
1905-1918 Veteran
1919-1930 Vintage
1931-1945 Post-Vintage
1946-1987 Classic
Many Irish collectors go to the UK to buy, but the situation there appears to be equally uncertain. Vehicles are exempt from paying vehicle tax if they are 40 years old or older on January 1, 2017. This principle covers vehicles built or registered in 1977. But, that's not even definitive as far as classic cars go, because some cars built after 1977 are classics. You'll find the MKII Escort or the MGB GT, for instance, for sale on many classic car websites.
UK Revenue, however, specifies that a car is a classic if it is older than 15 years and has a value of more than £15,000, which would include cars such as Jaguars, Mercedes, Porsches and Triumphs.
This does nothing to resolve the debate, because classic car websites feature plenty of cars that cost a lot less than that, most of which are regarded as classics. Take the Triumph Herald, MGB GT or the Rover P5B. These cars are more than 40 years old, but they can be picked up for anything between €4,000 and €10,000. Does that mean they aren't classics?
Not to mention newer cars: the Ferrari Testarossa, Volkswagen Golf, Mini Cooper and Renault 6 GTL were all registered in the 1980s or the 1990s, yet they are often called classics.
What the Insurers Say
If you're looking for classic car insurance, you'll also find that each insurer has its own criteria. Many insurance companies say a classic car is one that's more than 25 years old. It should be in excellent condition, driven 10,000 kilometres or less a year, and used as a second car. So, on that basis, it's not all about Aston Martins and Porsches. In Ireland of 1993 - 25 years ago - the Toyota Corolla or Volkswagen Golf would have been popular.
Many insurance companies prefer if the driver is over 25 years old. Classic car insurance is usually cheaper than ordinary car insurance, since classic cars tend to be for occasional driving only, and less likely to be involved in an accident. Extras may also be included, such as agreed value rather than market value if the car is written off. Plus, cover while the car is being displayed or restored.
Over the Pond
In the US, they are much clearer on the subject. Their definition of a classic car comes from the Classic Car Club of America, which says that classic cars are 'fine or unusual motor cars that were built between and including the years 1915 to 1948'. So, this would include the Aston Martin, Bentley and Austin - as well as the Jaguar, Rolls Royce, MG and Morris.
The most popular car during this time was Ford's Model T, which was introduced here in 1908. Affectionately known as the 'Tin Lizzie', it dominated the mass market for two decades and was named the most influential car of the 20th century. Henry Ford's father had emigrated from Cork to the US, so it was no surprise that the first manufacturing plant outside US was located in Cork city. The last Model T produced anywhere in the world rolled off the Cork production line in 1927. It has lived on, in the garages of collectors, who admire its style, simplicity and the creativity of its design. If you're in the market for one, expect to pay anywhere from €10,000 to around €25,000.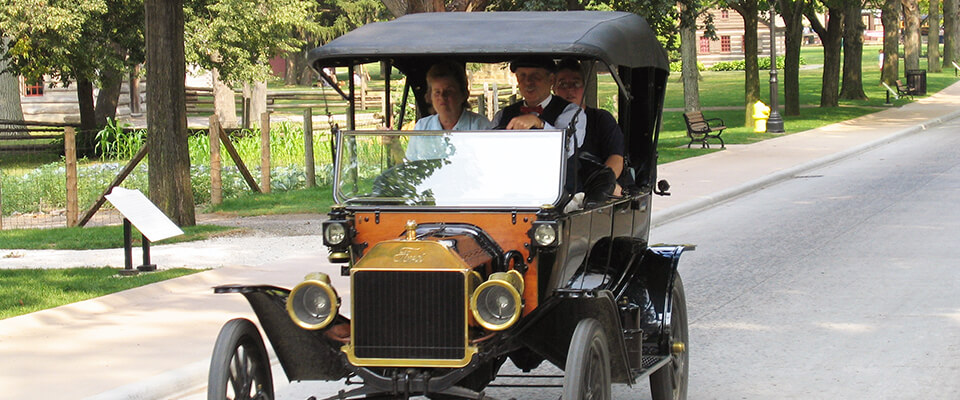 Our American cousins define vintage cars as being vehicles produced between 1919 and 1930. US insurance companies also have, what they term, a 'collectors' car category. This is any car manufactured in 1980 or later. In Ireland, cars popular during the 1980s would have included the Volkswagen Polo and Golf. The Ford Escort, Capri, Fiesta and Sierra were also in demand. Remember Glenroe in the early 1980s? When Miley wasn't on a tractor, he could be seen motoring around in his Volkswagen Jetta.
Cuba
One country that thrives on its reputation for classic cars is Cuba. In places such as Havana, you can take a taxi in one of its colourful 1950's vehicles. These include Chryslers, Buicks, Chevrolets and Fords. The reason why there are still so many classic cars in Cuba is, of course, because Fidel Castro banned foreign vehicle imports from 1959. The ban was lifted at the end of 2013, so it might signal an end to Cuba's colourful classic car history. Or, maybe they'll just add newer models.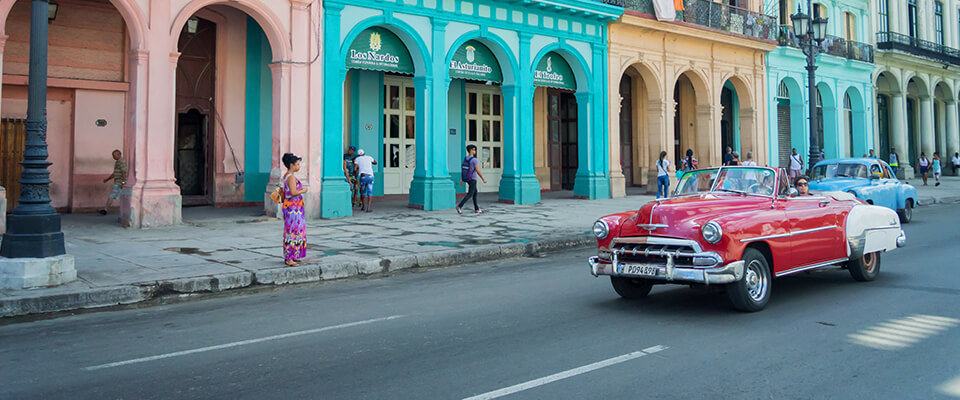 Car Clubs
Meanwhile closer to home, one way to learn about your car is by joining an enthusiasts' car club. We have a wide range to choose from, including a Jaguar and Daimler club, The Porsche Club, The Irish Mini Owners club and the MG Enthusiasts Club. Each club has members who own vehicles of various makes and models; they get together regularly for days out and charity events.
So, as you can see there's no definitive answer to the question of how old must a car be to be a classic. Enthusiasts will tell you that any car you lovingly maintain or restore, which turns heads when you're out on the road, is a classic. A more clear-eyed approach might be to ask your insurer for a quote. If your classic car is at least 25 years old, and you already have car insurance for a private car, you're eligible for our Classic Car Insurance.